Kerux Archives
Welcome to the Kerux Online Archives.
Every issue of Kerux from 1986 to the current issue is available now in the Kerux searchable archives.
Browse and Search Options
You may browse the archives by author, by bible reference or by journal issue. You may also search the archives using full text and filtered search.
The Archives Toolbar
For easy archive browsing and searching, use the quick-access Archives toolbar at the top of this (and every) page. Click on Author to see a list of all authors, Issue to see a list of all issues, and so forth.

Figure 1. Screen shot of Archives toolbar
Navigating the Articles pages
In the Archive pages, clicking an entry in an Author, Issue or Reference page takes you to a list of matching articles and reviews. Click the title to view the article or review. In addition, the author name(s), reference(s) and issue number are also clickable.
For example, in the list represented in the screen shot below, you would:
Click "John Calvin's 1542 Exposition of Jude" to read the article.
Click "John Calvin" to see a list of all articles (and reviews, where appropriate) by the author.
Click "Jude" to see a list of all articles which reference the book.
Click "26/3 (Dec 2011)" to see a list of all articles and reviews in that issue.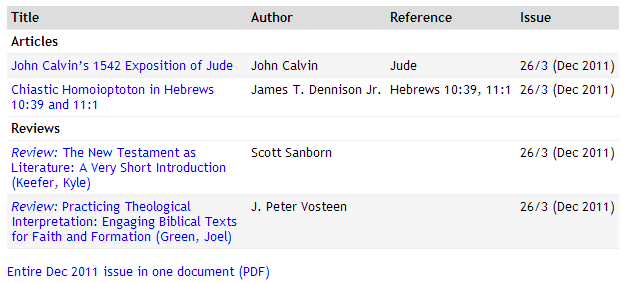 Figure 2. Screen shot of articles list (articles and reviews in the Dec 2011 issue)